Name: Seion Haier
Age: 20
Height: 6'1 (73 inches)
Weight: 178 pounds
Hair Color: Brown
Hair Style: Short
Eye Colour: Mako eyes, teal/blue
Skin colour: Lightly tanned
Clothing: SOLDIER 2nd Class Uniform
Race: Human
Job: SOLDIER, 2nd Class (Pending Approval)
Special Characteristics: All around general weapon knowledge specializing in swordplay. Outstanding athletic ability i.e. jumping, running and nimble movements.
Weapon: Standard issue SOLDIER sword
Goals/Problems: Seion essentially has no real goals in life with the exceptional of making to work almost on time everyday. Seion's biggest problem is a dull repetitive life and growing annoyance with ShinRa.
Items: A high powered "blackberry" like phone.
Materia: Gravity 2 - Push/Pull 2 and Bolt 2 - Lightning 2
Distinguishing Marks: Several claw marks across his chest from when he was mauled by a wild animal and other various scars left from battle. Mako eyes.
Flaws in Battle: Despite an exceptional athletic ability Seion is at most times a lazy fighter. Seion also lacks some concentration when it comes to attacking the easiest or most logically target which of course he will usually take the easier target leaving himself exposed.
Flaws in Personality: Focus and Concentration are his two biggest flaws in personality. Seion has a tough time staying on task and doing things the proper way assigned way. Laziness has also plagued him for years, for example if he was told to patrol the city twice around he would either pay some kid to walk around or ride the bus around the city.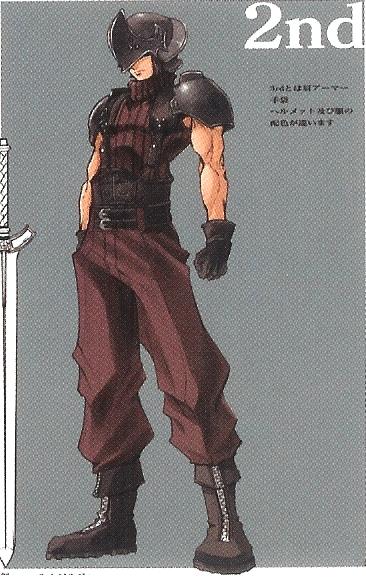 Bio:
Born to an EX-SOLDIER 1st class and a Mako Tech, Seion was almost guaranteed too be a gifted young child and he was to some regard. Growing up Seion always flaunted his sheer athletic abilities over other children in the slums and prove why he was better then them in all ways. At the age of 11 Seion's parents decided to leave the ShinRa Company and Midgar too. They would come to settle in Kalm.
Once in Kalm Seion became a bored child and that's when his father decided it would be healthy for Seion to learn how to fight and craft weapons and so Seion dedicated rest of his childhood to becoming a fighter despite protests from his mother. As the years quickly past Seion learned from his father how to use every weapon imaginable but became very proficient in the art of the sword. With Seion's 16th birthday quickly approaching then two made a pair of the swords that Seion would carry with him when he left to join SOLDIER and upon the completion of them on his 16th birthday Seion left Kalm to join SOLDIER.
Sheer athletic ability and raw talent allowed Seion to be swiftly promoted to SOLDIER 2nd class but that is where it all stopped. Due to his laziness to fight with anyone, his father being the exception, and coupled with his lack of focus, again unless his father was present, Seion's life came to standstill. Seion is still SOLDIER 2nd class to this day living a clone of yesterday, everyday.